The Sky Bunker is an English-speaking chat room on Kongregate. Oftentimes a peaceful place - and why not, with such a beautiful view? It is currently owned by pausey. (The old owner, skytomb, asked to be banned by an admin and left Kongregate, and the second owner Froggis is believed have left Kongregate without warning.)
While anyone can edit this page, MinecraftGuy6 (Yoctogamer043 here on Wikia) is the official "historian" of the room.
Now that Kongregate has decided to merge this chatroom with aimless, this page is now here for preservation of history. do not change anything unless you are simply updating contact information.
Rules of the Room
Edit
1. Use common sense
2. No spamming (and this means at all, ie: ANY types of spam.)
3. Roleplaying is not allowed, unless it's "/w" roleplaying.
4. No putting down other chatters.
5. No filter dodging.
6. No excessive caps.
The Moderators
Edit
The Regulars and Semi-Regulars
Edit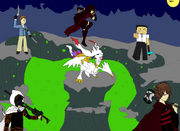 There are currently no regulars on The Sky Bunker, after the original owner skytomb left, almost every person left. The person to talk to about The Sky Bunker would be ninga12345 who is the most frequent regular.
The Regulars before skytomb left.
The Ex Regs
Edit
Common Visiting Times for the Regulars
Edit
Note: Currently incomplete.
arepeagee (GMT) - 10:00 or 11:00 AM, 6:00 PM
Cloaked_Goliath - Information coming soon.
dragonsrock1 - 2:00 PM
firanian - Information coming soon.
GameZone01 - 2:00 PM, 7:00 PM
Joseph_Victorian - 2:00 PM
KandyHorse - (EST) - Weekdays: between 6:00 PM and 5:00 AM
MinecraftGuy6 (PST) - 6:00 AM, 3:00 PM, 6:00 PM
Monkeyfish99 (PST) - Weekends: All day Weekdays: All day (during summer)
ninga12345 (EST) - Weekdays: Almost the entire day from 9am - 3pm EDIT: Has been blocked on the school wifi so cant be on during the day much anymore :( Weekends: On mostly all day if he is actually able to be online
pebble1217- His account is logged in and on The Sky Bunker 24/7, but sometimes he's AFK for hours.
skytomb - 2:00 PM NOTE: skytomb is no longer the room owner nor does his account exist anymore.
songmaeri - Varies 4rm morning to night (you never know when she'll be on and sometimes she's not on here on Monday bcuz that's when Running Man comes out with a new episode.)
SpikeHorse - Information coming soon.
TheAndroidxCell - Information coming soon.
XxIcePrincessxX (PST) - Varies from 3:00-4:00 PM
zakintosh - Information coming soon.
Zodcoly/Zodloly - 2-6PM GMT
Room Description
Edit
GameZone01's idea - "Not exactly Cloud Nine, but close!"
Mid-October 2013, as a joke - "Do not dumb here, this is not a dumb room."
Afterwards: "Cloud nine, almost."
2014's room description, meant to be a haiku:
"Floating in a cloud
so high, merriment and joy
shared among the family."
After skytomb left and Froggis took possession of the room: "The era of Froggis has arrived."
After that: "Not exactly Cloud Nine, but close!"
"Never use caps around Cloaked." - DuoRogue
"You want to be a gamer? All right, talk to me." - MinecraftGuy6
"Well, if we're just throwing quotes around." - Joseph_Victorian
"I blame Froggis." - Froggis
"..." - GlassChessX345
"People, think of things I have said!" - FrozenChestHair
"The ZakinZero has been here!" - Zakintosh
"Barrels." - Zlinqx
"Silence?" - Primogenitus
"AHHH I'M ON FIRE" - minecraftisforus
"Who doesn't like Fro, i'll beat their buns" - PinkFlamess
Ad blocker interference detected!
Wikia is a free-to-use site that makes money from advertising. We have a modified experience for viewers using ad blockers

Wikia is not accessible if you've made further modifications. Remove the custom ad blocker rule(s) and the page will load as expected.