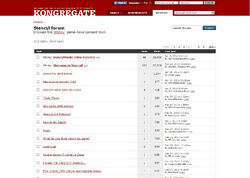 The Stencyl forum is a forum for discussing the Stencyl game development tool.
Stencyl is a free, downloadable tool for developing Flash games. It has a drag-and-drop interface and requires no knowledge of programming. It builds on MIT's Scratch project, but Stencyl has more features, utilizes the Box2D physics engine and allows you to publish your games as a Flash (.swf) file. In addition, there is a "code mode" for programmers to use a AS3 API for writing behaviors. Support for iOS games will be released in the future.
The Forum
Edit
The forum contains threads about using the Stencyl tool and games made using Stencyl. There are a large number of tutorials in the forum, most of them in the form of youtube videos. Questions and tips about how to use the tool, publishing for Flash, integrating Kongregate's API and pre-loaders and people showcasing their work are also common topics.
Forum Moderators
Edit
This forum does not currently have any forum moderators.
Ad blocker interference detected!
Wikia is a free-to-use site that makes money from advertising. We have a modified experience for viewers using ad blockers

Wikia is not accessible if you've made further modifications. Remove the custom ad blocker rule(s) and the page will load as expected.