The premise of the game is to avoid explosive mines while collecting objects for points. It was the first game to get a Kongregate sponsorship, but not the first sponsored game to receive badges. It was developed by Fabien "pixtiz" Nicollet.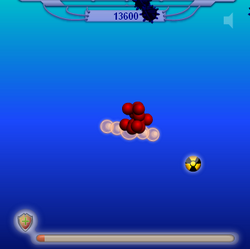 You control an object consisting of 5 bubbles in a straight line, with the central bubble being more pompous in size. It continuously spins around, making it difficult to squeeze through tight gaps. Using the Arrow Keys, you steer the object around to avoid mines while the screen scrolls west-east. The player may press Spacebar to pause the game.
Every 3 seconds, 200 points are added to the player's score. There are collectible bubbles worth 500 points and Pixtiz signs worth 5000 points. At certain intervals, power-ups may appear on the screen. You can gain temporary invulnerability, slower rotation or a bomb that kills every enemy on the screen. Destroying a mine yields 500 points - nukes are specially useful for such.
The game has two difficulty modes, Easy and Hard, with the latter being required for achieving badges.

Minefield Scout Badge

RotaZion » Begin your perilous journey through the underwater minefield by loading up "hard" mode and scoring 10,000 points

Rotation Rotation Rotation Badge

RotaZion » Score 80,000 points in hard mode
This game's Hard badge was added before the Easy badge, which is the reason why the latter is listed underneath the former on the Kongregate site.
There are illicit in-game glitches that make the task of achieving the Hard badge a very simple task. However, those are not recommended.
Ad blocker interference detected!
Wikia is a free-to-use site that makes money from advertising. We have a modified experience for viewers using ad blockers

Wikia is not accessible if you've made further modifications. Remove the custom ad blocker rule(s) and the page will load as expected.