Obelisco is a Little Spanish Chatroom (Avg 10-25) with room owner (ZeroCool666 )... BTW this is a Role Playing Chat... is a little room but with high activity people..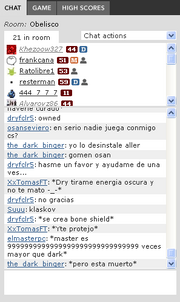 MOST ACTIVE NORMAL USERS
Edit
MOD USERS FROM OBELISCO
Edit
Helpful Links
Edit
Ad blocker interference detected!
Wikia is a free-to-use site that makes money from advertising. We have a modified experience for viewers using ad blockers

Wikia is not accessible if you've made further modifications. Remove the custom ad blocker rule(s) and the page will load as expected.