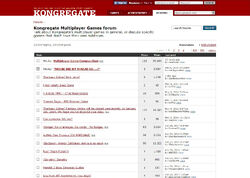 The Kongregate Multiplayer Games forum is a forum for discussing any of the multiplayer games on Kongregate.
The Forum
Edit
This forum contains threads about the multiplayer games on Kongregate, both Kongregate's Premium games and multiplayer games made by other developers. Upcoming games are often discussed in this forum, including games that Kongregate has in closed Betas. The forum is often used for discussions about in-game guilds and multiplayer games in general. There are also topics about the Konduit platform and the use of Kreds in games. Some of the most popular multiplayer games, like Kongai or Battalion: Arena, have their own game forums.
Forum Moderators
Edit
Ad blocker interference detected!
Wikia is a free-to-use site that makes money from advertising. We have a modified experience for viewers using ad blockers

Wikia is not accessible if you've made further modifications. Remove the custom ad blocker rule(s) and the page will load as expected.