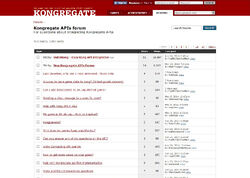 The Kongregate APIs forum is a forum for questions about integrating Kongregate APIs.
The Forum
Edit
This forum is intended for discussions and questions about Kongregate's APIs and their implementation. These questions were originally asked in the Game Programming forum, but since most questions in that forum were about ActionScript, making a forum specifically about API questions made it easier for the Kongregate admins to give feedback and help.
Ad blocker interference detected!
Wikia is a free-to-use site that makes money from advertising. We have a modified experience for viewers using ad blockers

Wikia is not accessible if you've made further modifications. Remove the custom ad blocker rule(s) and the page will load as expected.