A Kongpanion is a digital pet on your Kongregate profile and can be used as a sidekick in certain games. The first Kongpanion was introduced on January 14th, 2014 and a new one is introduced each week. Each Kongpanion is drawn by the artist JimP and implemented by the Flash game dev jmtb02.
Acquiring a Kongpanion
Edit
Each week, there is a new Kongpanion available and they are gained by completing at least one Badge of the Day from that week. Gaining five of the Badge of the Day badges from a single week will give you a "Shiny" version of that week's Kongpanion. The Shiny versions have the same functionality as a regular one. They also look almost the same, except that they are wearing a crown and the background have stars in the image showing how the pet sparkles. If you miss out on any Kongpanions, one of these can be awarded to you later by completing the Cuteness Overload quest. After completing this quest, you can choose one previously released Kongpanion that you haven't already been awarded. You may only choose one Kongpanion from this quest, so if you miss out on more than one, you will not be able to get all Kongpanions.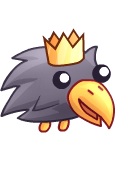 A Kongpanion is a creature companion on your profile. Most of them are animal companions, but some are living objects, such as a burger or a heart. Having a Kongpanion on your profile does not award the user with anything more for their profile other than the icon of the Kongpanion in question. They are also used as sidekicks in certain games where the game developer has enabled the use of these Kongpanions in-game. Their function in each game may vary as it is up to a developer how he chooses to use them. If a user has earned the Shiny version of a Kongpanion, they will show up with the graphics of the Shiny version. The Shiny version replaces the regular version, so you don't get two of them at the same time. The first game to utilize Kongpanions was Sandbox Hero, a game made for Kongregate by the developer jtmb02, and for a while it was the only game to feature these sidekicks. Kongregate promised that they would be used in future games and more games using these sidekicks are added over time.

Helpful Links
Edit
Ad blocker interference detected!
Wikia is a free-to-use site that makes money from advertising. We have a modified experience for viewers using ad blockers

Wikia is not accessible if you've made further modifications. Remove the custom ad blocker rule(s) and the page will load as expected.