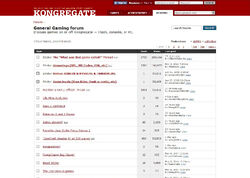 The General Gaming forum is a forum for discussing all kinds of games and gaming issues.
The Forum
Edit
This forum contains threads about gaming in general and all kinds of games. Games both on and off Kongregate are discussed, for any platform. Flash games that do not have their own game forum are discussed in this forum. PC and console games make up a large amount of topics, as do the social networks on these platforms. Usernames and Gamertags on Steam, PSN, XBL, Wii and similar gaming networks are often shared in this forum. From time to time, the age-old discussion of Xbox vs. Playstation rears its head in the forum threads and fanboys from both sides come out of hiding.
Forum Moderators
Edit
Ad blocker interference detected!
Wikia is a free-to-use site that makes money from advertising. We have a modified experience for viewers using ad blockers

Wikia is not accessible if you've made further modifications. Remove the custom ad blocker rule(s) and the page will load as expected.