This game has an associated wiki.

There is wiki that was created for content related to this game. A basic overview of the game is given on this page, however, if you are looking for walkthroughs or other more in-depth information, you can visit the associated wiki at Game of Thrones Ascent Wiki.
Game of Thrones Ascent is based of the HBO television series, Game of Thrones, and is created by Disruptor Beam in collaboration with George R. R. Martin and HBO.
Your character is a Noble in Westeros, sworn to serve one of the Great Houses of Westeros. Manage your Holding, interact with other Nobles in friendly or not-so-friendly ways.
Should you decide to join an Alliance you will compete with your Alliance against others for monthly prizes.
Your character is ordered by Jon Arryn, the Hand of the King, to rid the land of a group of Slavers that have settled within a Holding. As a reward, King Robert Baratheon, first of his name, awards with a Noble Title and the right to rule that Holding in service to one of the Great Houses.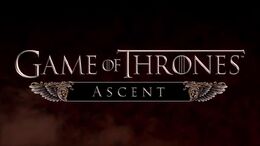 In-Game Achievements
Edit
There are a LOT of in-game Achievements that can be achieved throughout the game. They are accomplished by completing tasks through building, fighting, purchasing and equipping troops and/or items, as well as many other aspects of the game.
All Achievements fall into one of the following six categories; 
References
Edit
Ad blocker interference detected!
Wikia is a free-to-use site that makes money from advertising. We have a modified experience for viewers using ad blockers

Wikia is not accessible if you've made further modifications. Remove the custom ad blocker rule(s) and the page will load as expected.