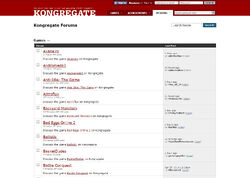 If a game is very popular or if there are a large number of forums threads about a game, the admins often create a separate forum for all the threads about that specific game. There is a large number of game forums and more are added from time to time. Occasionally, a game forum with low activity may be removed.
The Forum
Edit
Each game forum contains threads about one specific game. Badge discussions, hints and tips, walkthroughs, game updates, suggestions, bug reports and user levels are common topics. The game forums are often used for discussions where the users want input from the developer of the game.
Forum Moderators
Edit
Each game forum has different forum moderators, but most of them don't have any moderators. Unlike the other forums, the developer of a game with its own forum can request to be a forum moderator for that specific forum, even if the developer is not a normal chat moderator.
List of Game forums
Edit
Ad blocker interference detected!
Wikia is a free-to-use site that makes money from advertising. We have a modified experience for viewers using ad blockers

Wikia is not accessible if you've made further modifications. Remove the custom ad blocker rule(s) and the page will load as expected.