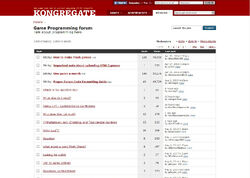 The Game Programming forum is a forum for discussing any programming related to game design or game development.
The Forum
Edit
The forum is intended for all kinds of game programming discussions, but the majority of the threads in the forum is about making Flash or Unity3D games. Kongregate game developers use the forum for asking questions about ActionScript, both AS2 and AS3, and integrating Kongregate's API. After the Kongregate APIs forum was created, all the threads asking advice about the API in general was moved, while there are still some threads about writing code for using the API in the Game Programming forum. There are several links to tutorials, best practices and various developer resources, even a tutorial on making tutorials. The forum also contains information about Kongregate's JSON feeds and making apps for the Kongregate site. Programmers often use the forum for asking questions about programming such apps.
Game Development Room
Edit
In order to accommodate live discussions about game programming, a developer uploaded the Game Development Room to Kongregate. It features a real time chat and a code box where you can send code quickly between users. The moderators on Kongregate also has moderator privileges in the GDR chat.
Forum Moderators
Edit
Ad blocker interference detected!
Wikia is a free-to-use site that makes money from advertising. We have a modified experience for viewers using ad blockers

Wikia is not accessible if you've made further modifications. Remove the custom ad blocker rule(s) and the page will load as expected.