Ad blocker interference detected!
Wikia is a free-to-use site that makes money from advertising. We have a modified experience for viewers using ad blockers

Wikia is not accessible if you've made further modifications. Remove the custom ad blocker rule(s) and the page will load as expected.
Epic War 4
Details
Author
rudy_sudarto
Genre
Strategy & Defense
Published
2010-07-15
Game Play
In-Game Awards?
Yes
Gameplay Style
Strategy
Upgrade System?
Yes
Epic War 4 is the sequel to Epic War 3. It is a tactical warfare game which starts out easy, but has a steep difficulty curve. The game revolves around summoning creatures and attack the opponent's castle. You must destroy your opponent's castle before he can destroy yours.
There are 16 levels which can be played on 3 different difficulties; Normal, Hard and Epic. The game revolves around summoning creatures and using spells to defeat your opponent's creatures. The goal is to reach your opponent's castle and destroy it. Winning battles reward you with gold that you can use to upgrade heroes, units and spells. There are also six different upgrades for your castle. Levels may be repeated in order to gain more gold.
There are 5 heroes and 20 Different types of units to choose from. You can only equip 3 heroes and 2 unit types on each hero at a time. Each hero takes a certain time to spawn. While the hero is alive, it automatically summons units of the two unit types it has equipped until you reach the maximum population of that unit type. You can also to pick up to 6 of the 12 available spells.
Viegraf The Red
Simon The Magician
Popo The Epic Dwarf
Kara The Slayer
Cassandra The Queen
For Unit, Hero and Titan : Health - Attack - Total Pop - Cost
For Skill : Power - Mana Cost - Cost
Viegraf the Red - Orange Path
Edit
Viegraf the Red [Hero]
700 - 80 - 1 - 0
900 - 100 - 1 - 10,000
1200 - 120 - 1 - 20,000
1500 - 150 - 1 - 35,000
1900 - 200 - 1 - 50,000
Goblin [Unit]
60 - 8 - 10 - 0
75 - 12 - 15 - 1,000
95 - 20 - 20 - 3,000
120 - 30 - 25 - 12,000
160 - 40 - 35 - 30,000
Mad Bull [Unit] - Need Goblin
200 - 25 - 5 - 2,500
250 - 40 - 7 - 6,000
300 - 60 - 10 - 12,000
500 - 90 - 14 - 24,000
800 - 150 - 18 - 40,000
Comet Shot [Skill]
Damage small area
40 - 12 - 1,000
50 - 14 - 3,000
70 - 16 - 9,000
500 - 90 - 14 - 24,000
800 - 150 - 18 - 40,000
Phantom Ghost [Unit] - Need Comet Shot
160 - 40 - 3 - 2,700
200 - 55 - 5 - 9,000
270 - 80 - 7 - 18,000
350 - 110 - 9 - 31,000
630 - 190 - 12 - 42,000
Gate [Castle] - Need Phantom Ghost
Castle +500 Defence - Cost 2,500
Castle +1000 Defence - Cost 5,000
Castle +1500 Defence - Cost 10,000
Castle +2000 Defence - Cost 15,000
Castle +2500 Defence - Cost 20,000
Mighty Guardian [Unit] - Need Gate
550 - 90 - 2 - 6,500
700 - 105 - 3 - 12,500
900 - 120 - 4 - 23,000
1100 - 155 - 5 - 34,000
1400 - 195 - 8 - 47,000
Rage [Skill] - Need Mighty Guardian
Temporary boost ally power +100%
240 - 32 - 5,000
288 - 34 - 10,000
336 - 36 - 15,000
384 - 38 - 20,000
480 - 40 - 30,000
Thunderbolt [Skill] - Need Gate
Damage medium area
60 - 42 - 1,500
80 - 44 - 4,500
100 - 46 - 13,500
140 - 48 - 27,000
195 - 50 - 42,000
Lord of Fire [Titan] - Need Thunderbolt
9000 - 366 - 1 - 100,000
10500 - 399 - 1 - 120,000
12000 - 450 - 1 - 140,000
14000 - 450 - 1 - 160,000
16666 - 666 - 1 - 160,000
Simon the Magician - Blue Path
Edit
Simon the Magician [Hero]
300 - 45 - 1 - 5,000
500 - 65 - 1 - 10,000
700 - 85 - 1 - 20,000
900 - 115 - 1 - 35,000
1200 - 160 - 1 - 50,000
Healing [Skill] - Need Simon the Magician
Heal all ally
50 - 52 - 5,000
100 - 54 - 10,000
300 - 56 - 15,000
900 - 58 - 20,000
1500 - 60 - 30,000
Pixie [Unit] - Need Healing
50 - 30 - 2 - 4,500
70 - 40 - 3 - 13,500
90 - 50 - 4 - 22,500
110 - 70 - 5 - 33,500
130 - 100 - 7 - 46,500
Guild [Castle] - Need Pixie
Money Gain +20% - 5,000
Money Gain +40% - 10,000
Money Gain +60% - 15,000
Money Gain +80% - 20,000
Money Gain +100% - 25,000
Succubus [Unit] - Need Guild
90 - 30 - 1 - 5,000
120 - 45 - 2 - 10,000
150 - 60 - 3 - 15,000
240 - 90 - 4 - 30,000
360 - 150 - 5 - 45,000
Ice Blast [Skill] - Need Succubus
Damage medium area
70 - 47 - 1,600
90 - 49 - 4,800
120 - 51 - 16,000
150 - 53 - 32,000
225 - 55 - 44,000
Sky Dragon [Titan] - Need Ice Blast
11000 - 280 - 1 - 100,000
13000 - 330 - 1 - 120,000
15000 - 380 - 1 - 140,000
17000 - 420 - 1 - 160,000
19500 - 550 - 1 - 200,000
Sylph [Unit] - Need Healing
80 - 28 - 2 - 5,500
110 - 40 - 3 - 11,000
135 - 55 - 4 - 22,000
200 - 85 - 5 - 33,000
320 - 130 - 6 - 44,000
Altar [Castle] - Need Sylph
Mana Boost +40 - 10,000
Mana Boost +80 - 15,000
Mana Boost +120 - 20,000
Mana Boost +160 - 25,000
Mana Boost +200 - 30,000
Shield [Skill] - Need Altar
Temporary gain invulnerable stat
240 - 72 - 5,000
288 - 74 - 10,000
336 - 76 - 15,000
384 - 78 - 20,000
480 - 80 - 30,000
Popo the Epic Dwarf - Yellow Path
Edit
Popo the Epic Dwarf [Hero]
800 - 50 - 1 - 5,000
1000 - 70 - 1 - 10,000
1400 - 90 - 1 - 20,000
1800 - 120 - 1 - 35,000
2400 - 150 - 1 - 50,000
Orang Utan [Unit] - Need Popo the Epic Dwarf
400 - 40 - 2 - 3,000
600 - 60 - 3 - 9,000
800 - 80 - 4 - 15,000
1000 - 100 - 5 - 27,500
1300 - 140 - 6 - 35,000
Rain of Arrow [Skill] - Need Orang Utan
Damage medium area
20 - 54 - 2,000
30 - 56 - 6,000
40 - 58 - 12,000
60 - 60 - 24,000
80 - 62 - 48,000
Dwarf Engineer [Unit] - Need Popo the Epic Dwarf
70 - 9 - 5 - 1,200
85 - 14 - 10 - 4,000
105 - 18 - 15 - 8,000
130 - 24 - 20 - 16,000
170 - 40 - 25 - 32,000
Berserk [Skill] - Need Dwarf Engineer
Temporary boost ally critical +100%
240 - 42 - 5,000
288 - 44 - 10,000
336 - 46 - 15,000
384 - 48 - 20,000
480 - 50 - 30,000
Ka-Boom [Unit] - Need Berserk
1 - 50 - 1 - 3,000
1 - 80 - 2 - 6,000
1 - 120 - 3 - 12,000
1 - 150 - 5 - 20,000
1 - 250 - 7 - 35,000
Epic Tank [Unit] - Need Ka-Boom
1000 - 70 - 1 - 10,000
1200 - 80 - 1 - 14,000
1400 - 95 - 2 - 28,000
1600 - 125 - 2 - 38,000
2000 - 145 - 3 - 49,500
Iron Wall [Castle] - Need Epic Tank
Castle Defence +1000 - 5,000
Castle Defence +2000 - 10,000
Castle Defence +3000 - 15,000
Castle Defence +4000 - 20,000
Castle Defence +5000 - 25,000
Great Diablo [Titan] - Need Iron Wall
12000 - 300 - 1 - 100,000
14000 - 400 - 1 - 120,000
16000 - 500 - 1 - 140,000
18000 - 650 - 1 - 160,000
21000 - 800 - 1 - 200,000
Cassandra the Queen - Green Path
Edit
Cassandra the Queen [Hero] - Need another level 3 Hero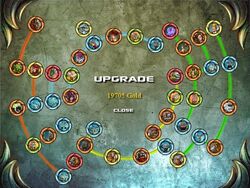 450 - 40 - 1 - 5,000
650 - 60 - 1 - 10,000
850 - 85 - 1 - 20,000
1100 - 130 - 1 - 35,000
1400 - 175 - 1 - 50,000
Tower [Skill] - Need Cassandra the Queen
Summon mighty Epic War Tower
50 - 210 - 12,000
60 - 220 - 24,000
70 - 230 - 48,000
80 - 240 - 96,000
100 - 250 - 160,000
Untamed Beast [Unit] - Need Tower
600 - 70 - 1 - 8,500
800 - 100 - 2 - 18,000
1000 - 130 - 3 - 27,000
1200 - 160 - 4 - 36,000
1600 - 210 - 5 - 48,000
Were-Tiger [Unit] - Need Untamed Beast
320 - 80 - 1 - 9,000
400 - 95 - 2 - 19,000
480 - 110 - 3 - 29,000
640 - 145 - 4 - 39,000
960 - 235 - 5 - 49,000
Phoenix Strike [Skill] - Need Were-Tiger
Damage all area, line attack
200 - 62 - 9,900
270 - 64 - 18,000
350 - 66 - 27,000
450 - 68 - 36,000
620 - 70 - 49,000
Kara the Slayer [Hero] - Need Phoenix Strike
550 - 70 - 1 - 5,000
750 - 100 - 1 - 10,000
1050 - 150 - 1 - 20,000
1500 - 200 - 1 - 35,000
2100 - 250 - 1 - 50,000
Forest Hunter [Unit] - Need Cassandra the Queen
120 - 25 - 4 - 2,400
160 - 35 - 6 - 7,200
240 - 45 - 8 - 16,400
350 - 75 - 10 - 24,000
520 - 95 - 13 - 32,000
TimeStop [Spell] - Need Forest Hunter
Temporary stop enemy movement
240 - 87 - 12,000
288 - 89 - 24,000
336 - 91 - 48,000
384 - 93 - 96,000
480 - 95 - 160,000
Elf Sniper [Unit] - Need TimeStop
75 - 35 - 5 - 7,000
100 - 45 - 7 - 14,000
125 - 55 - 9 - 21,000
200 - 85 - 12 - 27,000
350 - 105 - 15 - 39,000
Fortress [Castle] - Need Elf Sniper
Castle Defence +1500 - 15,000
Castle Defence +3000 - 20,000
Castle Defence +4500 - 25,000
Castle Defence +6000 - 30,000
Castle Defence +7500 - 35,000
Meteor Blast [Skill] - Need Fortress
Damage big area
900 - 140 - 10,000
1200 - 145 - 20,000
1400 - 150 - 30,000
1600 - 155 - 40,000
2000 - 160 - 50,000
Valkyrie [Unit] - Need Elf Sniper
250 - 85 - 3 - 7,500
400 - 105 - 5 - 15,000
600 - 135 - 7 - 25,000
750 - 150 - 9 - 35,000
900 - 185 - 12 - 47,000
Celestial Angel [Titan] - Need Valkyrie
6500 - 320 - 1 - 100,000
7000 - 399 - 1 - 120,000
8000 - 450 - 1 - 140,000
10000 - 620 - 1 - 160,000
12000 - 850 - 1 - 200,000
Achievements
Edit
Read Help
Clear 6 stage
See the ending
Stop horde of goblin
Halt the Bigbang
Trick tyrant lord Baal
Slay the golden angel
Grindfest - Completed all upgrade
Master of war - Beat all levels on hard mode
Epic hero - Beat all levels on epic mode
Walkthroughs
Edit