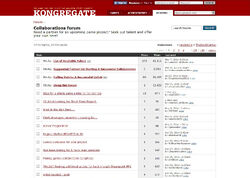 The Collaborations forum is a forum where aspiring game creators can seek out people to collaborate with on their game idea.
The Forum
Edit
The forum is intended as a place where programmers, graphical artists, musicians, game designers and writers can seek out others to team up with in order to develop games. While users can show off their work in the Art and Sounds section, this forum allows them to discuss working together on upcoming projects. Common topics include users listing their talents, persons or groups looking for people with specific skills, game developers looking for beta testers and general tips on working in teams.
The forum is not intended for showcasing talents, as there already is an Arts forum for that. Neither is the forum intended for debating game ideas or discussing salaries for working on games. The forum was created in order to create game development groups and discussions within a single group does not belong in this particular forum.
Forum Moderators
Edit
Ad blocker interference detected!
Wikia is a free-to-use site that makes money from advertising. We have a modified experience for viewers using ad blockers

Wikia is not accessible if you've made further modifications. Remove the custom ad blocker rule(s) and the page will load as expected.