BioGems is a badged puzzle game on Kongregate, developed by Mochi Media. It is a fast-paced, action fighter, with match-3 gameplay.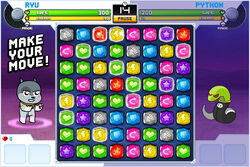 Mochi Media is proud to present this fast-paced action fighter with match-3 gameplay! Featuring awesome animations, sound effects, powerups and bosses, this is sure to be one of the most intense action puzzle experiences you'll play in a while! Choose from multiple characters to travel through space and beat up on some baddies. Make sure to keep an eye on your health and special meter to unleash the most powerful attack across the galaxy!

Crash Course Badge

BioGems » Crash 100 gems

Shark: Weak Badge

BioGems » Beat up the first five enemies

Calamari Calamity Badge

BioGems » Show all the galactic bullies who's boss
Ad blocker interference detected!
Wikia is a free-to-use site that makes money from advertising. We have a modified experience for viewers using ad blockers

Wikia is not accessible if you've made further modifications. Remove the custom ad blocker rule(s) and the page will load as expected.