"One door, firmly locked, but have you got what it takes to escape? 40 times?" - Bart Bonte
40xEscape is a simple game of the escape the room genre of puzzle games. You have to solve puzzles to escape the same room a total of 40 times in a row. It was developed by Bart Bonte, the author of many other badged games.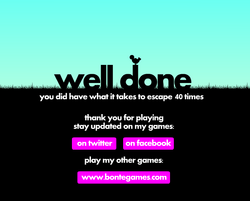 You are locked up inside a room, and you need to solve a difficult puzzle in order to open the door and escape - the thing is, you have to do it 40 times. Forty locked doors and forty tests of your problem solving skills. Every room presents a unique puzzle that will require a lot of brain power and outside-the-box thinking to solve. There is no immediate danger or anything else making the puzzles time sensitive. Take your time and think through each puzzle. Each level is essentially the same room, but with a few extra ingredients to change the puzzle around. It's all about determining the correct sequence of mouse actions that will open the door and often the solution is directly related to the ESCAPE sign above the door. All of the game puzzles are fully controllable with the mouse.

This Is the Only Door Badge

40xEscape » Complete all 40 levels and finally escape through the door
Walkthrough
Edit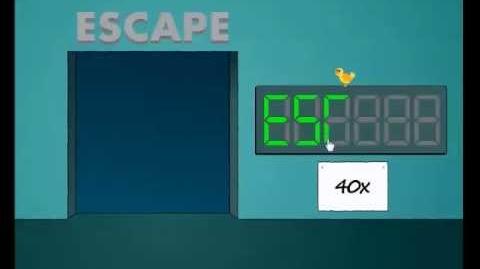 Ad blocker interference detected!
Wikia is a free-to-use site that makes money from advertising. We have a modified experience for viewers using ad blockers

Wikia is not accessible if you've made further modifications. Remove the custom ad blocker rule(s) and the page will load as expected.